Over the past few weeks, I've been keeping a note of every time a customer mentions something they like about our utility search service.
The reason for this is that I had convinced myself that, as we offer a standardised product (a utility report should not be different regardless of who provides it), speed and cost were the only 2 realistic things that could differentiate ourselves in the market place.
It's now obvious from my crude piece of research that there are, however, a myriad of other things customers benefit from – some of which we had taken for granted!
I would urge anyone in a customer facing role to do this. For me, it now allows me to find and highlight more value when selling.
Here's the list of some of the other benefits I have found for our business and why our customers like them…
---
An honest proposition
First and foremost, we believe that being honest and holding integrity in what we do is key to build customer relationships. For instance, we've noticed a lot of competitors offering premium pricing for different timescales lately – We don't get involved with timeline propositions as in reality we have no control in bringing the plans in any quicker and many utilities do consistently take between 6 and 10 working days. We also like to sleep well in our beds at night having not let our clients down so we don't put out premium priced products for 1 and 5 day turnarounds. Our clients respect that!
We also state that we make our revenues from our management fees and will never inflate the disbursements (cost of utility plans) we receive from the utility companies. We show this in the breakdown of our quotes. We believe our clients like both the transparency and the consistency in our approach.
---
Quote turnaround times
A lot of our customers are dealing with their own clients and the utility search is only a small part of the bigger project. They find it a real benefit that they can have guaranteed costs confirmed by email within 20 mins during office time.
---
Estimated delivery times
We invested in some intelligence in our systems last year. We now provide an estimated delivery time for all searches. As we complete a high volume of plan requests with all the utility companies, our website is continually working out how long the plans are taking to come back to us and makes a very good prediction on when a site search will be complete. This is important to our clients as it allows them to accurately work their jobs around the completion of the utility search.
---
Referencing
A simple one but when dealing with complex and multiple projects, it's clear that everything needs to be tied back to a unique client reference. The reference provided by the client is the thing that is consistent and constant across all our communications and is a must have when dealing with larger organisations.
---
Checking and monitoring
Making sure the plans fit the area/location is fundamental to the service we offer. Unbeknown to most of our clients, we do various other checks to ensure the search is correct and suffers no delays. We double check grid references match the address provided, we check for duplicate sites and we monitor utility response times (and chase if necessary!). This all means the client can have confidence in the final product!
---
Search criteria/search flexibility
Cornerstone offers 3 search options – a basic search covering the main utilities, a full cable search and recently we added an independent utility search. These 3 provide what we believe to be the most comprehensive search in the UK. As standard, we also ensure we search whether a site is on a coalfield, free of charge. We will also search things like Network Rail and the Environment Agency where the client requests. We believe our clients are reassured that we have one of the most comprehensive searches in the UK and the flexibility to go further.
---
Interim packs
The cable and Independent utility search tend to take a little longer up to 10 working days. Understanding that our clients want to get a head start with their works, we always send an interim pack when the main utilities are complete. An interim pack with the Gas, Water, Sewer, Electric and BT generally only takes between 1 and 6 working days depending on the location so offers the benefit of early results.
---
Added extras
With the amount of utilities increasing year on year, lots of clients are taking the CAD option so they can view all the services on one drawing. Some are also benefitting from us helping them with the administration of road openings (Section 50's), utility connections/disconnections and diversions.
---
Continual improvement
We have a culture of idea generation and a thirst to explore new growth opportunities. Over the last few months we have launched an extended independent utilities search, a free coal search, estimated delivery times and the Scottish Water Plant enquiry service. Smaller businesses have the benefits of speedier decision making and the agility to act quickly. Most of the above were actioned in weeks and we believe clients like our proactivity. Suffice to say, we're on to our next idea already.
---
And finally…
This whole exercise has made me reflect how my time working for a small business compares to that of a corporate machine. I've recognised that in a smaller business, I think you are naturally closer to the needs of your customers. I think it's simply down to size – you share and discuss all customer insights as a team more because they are there beside you. You also get involved across the full customer experience because you must! Lastly and personally, I think I listen more attentively and care more as customers are ultimately more valuable for a smaller business.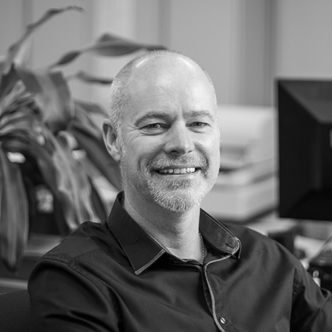 Brought in to help take the business to the next level, Jim's role is to improve lead generation and customer satisfaction from over 3,500 registered clients. Jim loves interacting with potential and existing clients and has a wealth of marketing and sales experience through his previous roles at O2, the RAC and TalkTalk. Jim holds a BA (Hons) Business Studies degree majoring in Marketing. He has also become a regular visitor to the UEFA Champions League final of late 😉