It's no secret that construction has taken its time with embracing the digital age, and there are still areas that we're slipping up on.
With the invention and introduction of new technology and software, the use of paper feels like an old fashioned and outdated way of doing things – and that's not even looking at the negatives that come with using paper.
Due to the COVID-19 pandemic, many companies have had to switch to paperless solutions due to staff not being in the same building/working remotely, as well as the health risks that come with multiple people handling the same document.
With that in mind, is it time for construction to finally go fully paperless?
---
What are the negatives of using paper?
While paper has served us well over the years, it definitely comes with plenty of issues.
Firstly, it is a very costly method of doing things, especially in the bigger companies.
While the paper itself doesn't cost that much, the large amounts used by construction companies certainly add up – and then you have the cost of slower processes and risk of damage/being lost, etc to consider.
Filling out paperwork is a very time consuming task, and is often prone to error. Even the most thorough checker fails to notice some mistakes from time to time, and these errors can result in some pretty costly delays.
The continued use of paper also has a negative impact on the environment. While recycling has become a lot more popular and almost second nature for some, there is still plenty of paper that goes un-recycled and contributes towards waste.
In an age when we are being encouraged to do everything we can to "go green" and secure a better future for the environment, why are we still using resources like paper?
---
What are the benefits to going paperless?
Embracing a paperless, digital construction comes with many benefits, including reduced costs, more efficient procedures and increased productivity. Let's take a look at a few of these benefits.
Thanks to cloud and mobile software, things such as timesheets are made a lot easier and available to read and edit in real time, increasing accountability on site so you can see who did what, where and when.
This kind of technology also allows you to send and view important documents in real time, often with multiple collaborators, resulting in less time spent going back and forth on site.
Billing is made so much easier and faster through digital signatures, meaning no more delivering contracts and sending documents back and forth, relying on the postal service in order to get paid.
The implementation of modern technologies also make site inspections a speedier process and even more detailed, saving both time and money and protecting workers by identifying and eliminating risks.
We touched on it before, but we all know how easily paper is misplaced or damaged. By using digital tech instead of paper forms, you eliminate the risk of losing a document as it is stored safely in the cloud. No more smudges or hard to read handwriting, with instant access wherever you are.
You'll find that mobile tech is overall more accurate and reliable, increasing productivity, protecting against liability and potentially preventing life threatening injuries.
---
Are there any positives to staying paper based?
Put simply, not really.
As you can see, digital wins in almost every aspect against paper, so there really is no need to continue using paper.
Unlike many of the subjects we talk about in these articles, there really isn't much of an argument against ditching paper and embracing digital technology.
The only "argument" you could say is that investing in new technologies and software and training members of staff to use this tech costs money and takes time, but this will only benefit them in the long term as far as time and money is concerned.
When every worker has essentially a mini computer in their pockets, there is no longer an excuse for construction not going digital.
---
How can construction companies make the switch?
We appreciate that switching to a paperless solution isn't going to happen overnight, but there are many different pieces of software and technology available today to make the switch as pain-free and simple as possible.
A few examples of this software include Paperless Construction, a health and safety management tool designed to remove the need for paper-based H&S records and to automate compliance management, as well as Building Information Modelling (BIM), which is the use of detailed 3D models to enable project management through the planning, design, build, operation and maintenance phases.
We've already detailed the benefits of BIM in this article, but it's worth mentioning that it helps to reduce risks, improve timelines, save money and make collaboration and sharing much easier.
We have also just seen the launch of the Common Assessment Standard, a nationally recognised single prequalification system that is set to save £1bn in paperwork – significantly reducing the duplication of time, effort and resources.
Many major contractors and clients including HS2, Multiple and Skanska have signed up to the Common Assessment Standard, meaning that members of their supply chains will only need to obtain one certification in order to tender for work with them.
Hopefully we will see more and more contractors adopting this system going forward and other methods like this to reduce the amount of paper in construction.
---
Summary
In summary, a paperless approach to construction makes it easier to work, facilitates the monitoring of projects instead of people, keeps productivity at peak performance and helps to protect the environment.
We are aware that there will be some that are not ready or willing to embrace digital construction, but it's clear that this is where we are heading – so it's time to get onboard.
Here at Cornerstone Projects, we offer many paperless services including our Smart PDF drawings, which provides you with an Adobe.pdf drawing of your location with all the different utilities highlighted, and our Instant Access Plans that allow you to gain access to your digital utility plans as soon as we receive them – usually within minutes of your order with us.
Want to get involved in the conversation? Feel free to tweet us @utilitysearches and let us know your thoughts.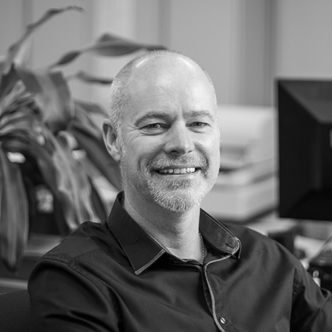 Brought in to help take the business to the next level, Jim's role is to improve lead generation and customer satisfaction from over 3,500 registered clients. Jim loves interacting with potential and existing clients and has a wealth of marketing and sales experience through his previous roles at O2, the RAC and TalkTalk. Jim holds a BA (Hons) Business Studies degree majoring in Marketing. He has also become a regular visitor to the UEFA Champions League final of late 😉