Construction is a great industry to get into, with opportunities for progression available for those who want to apply themselves.
But simply showing up and doing the job isn't going to help you rise through the ranks, and some extra effort is required in order to land that dream role.
If you're looking to make your way up the corporate ladder, here are some top tips for getting promoted in the construction industry.
---
Be dedicated
Dedication and motivation are two of the biggest factors that anyone looks for when a promotion comes around, and one way of showing this is by always showing up before you're supposed to start, and offer to help at every moment..
While it may be easy to simply turn up and perform the jobs asked of you, this isn't exactly going to make you stand out amongst your colleagues – especially if you're part of a bigger team.
Sometimes you need to go above and beyond in order to reach that next level, and get management to notice and pay attention.
You need to prove that you are an essential part of the team, and get to a point where they need to promote you, or risk losing you to the competition.
We don't recommend working yourself to the bone or overexerting yourself by any means, but hard work and a bit of extra effort will go a long way.
---
Keep improving and learning
When you've settled into the job, it can be easy to fall into a routine and grow stagnant, clocking in and getting the job done and going home.
However, if you're looking to get a promotion and work your way up, you need to continue to improve yourself.
Identify areas that need improvement or you don't feel confident enough in, and take the steps to get better. Take an interest in departments other than your own, aim to fill the gaps in your knowledge, and ask plenty of questions.
Showcase your willingness to improve by taking courses and gaining new certificates, many of which are free or at least, affordable.
Curiosity often leads to good things, and the strive to develop will get you noticed and in the conversation for future promotions. It can be a challenge to take on extra work, but it will be worthwhile in the long run.
---
Touch base with management often
In order to get noticed, you need to be in regular communication with management and ensuring that you know what they are looking for – and delivering on that.
As mentioned earlier, managers usually over see large teams and it's hard to keep track of each person's individual progress.
Set regular goals, come up with strategies, and help implement them, and management will soon notice.
Always be eager to help (without being annoying!), and earn the respect of your managers.
---
Become a problem solver
In construction, we all know that things can very easily go wrong.
In these situations, it's essential that you do what you can to help get things back on track as soon as possible. You need to prove that you can handle things going south, and stay calm in stressful situations.
Management will always appreciate someone that doesn't lose their head when situations happen, and focusing on what can be done to remedy the situation will make you look more valuable.
---
Prioritise health and safety
Health and safety should always be the biggest priority when on-site, and you need to champion this statement.
Become a leader and set an example for everyone else on-site. This is your opportunity to show that you can get projects completed efficiently whilst still adhering to strict health and safety regulations.
Anyone who cuts corners or bends safety regulations will struggle to progress in this industry, and risking other people's safety should never be condoned.
Keep focused, stay alert, and always put worker health and safety first.
---
Get organised
Money is everything for construction companies, and keeping projects on budget and delivered on-time should be your main goal.
You need to be doing whatever you can within your power to ensure that things run as smoothly as possible, avoiding any potential delays and keeping things on track. Be able to assist wherever needed, and work with management to ensure work is carried out efficiently.
While certain delays are unavoidable, your actions and what is done to help overcome them will be remembered.
---
Be confident talking to people
Customer service is a skill, and the ability to talk to clients is invaluable in the construction industry.
Social interaction is a must, and developing and growing your confidence in speaking with customers will really help show management that you are capable of more.
You might be a great worker, but a lack of people skills will hinder your progress. Strive for a balance of hard work and good people skills and you'll go far.
---
Spread the word
In general, be an advocator for the company.
Always be positive when speaking about the company, refer when speaking to new clients, and try and expand the business in any ways you can. The higher ups will take notice, and appreciate anyone who helps the business to grow and succeed.
---
Summary
If you're motivated enough, a job in construction can be for life.
Work hard, stay focused, and you'll see it pay off. Take yourself from undesirable to undeniable, and make it so they have to take notice.
You get out of a job what you put into it, so knuckle down and earn that dream position.
Want to get involved in the conversation? Feel free to tweet us at @utilitysearches.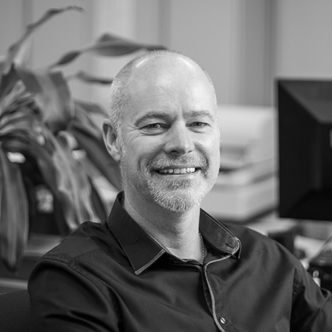 Brought in to help take the business to the next level, Jim's role is to improve lead generation and customer satisfaction from over 3,500 registered clients. Jim loves interacting with potential and existing clients and has a wealth of marketing and sales experience through his previous roles at O2, the RAC and TalkTalk. Jim holds a BA (Hons) Business Studies degree majoring in Marketing. He has also become a regular visitor to the UEFA Champions League final of late 😉