In March 2020, most of the world came to a standstill due to the COVID-19 pandemic and overnight we saw cities and town centres go from heavily crowded places to essentially ghost towns.
With a lockdown announced and employee health and safety at risk, employers had to quickly find solutions to continue working despite these restrictions.
Over a year on, things are looking slightly better and we are working towards the end of this pandemic, but the working world might have changed forever.
With more companies than ever rethinking their office situation and offering flexible working as an option, we're taking a look at how this is going to change our towns and cities going forward.
---
The rise of flexible/remote working
So, is the office space completely dead? No, but it's role has definitely changed.
As mentioned, the pandemic forced the hand of many employers and where possible, staff had to set up at home to continue working on.
For some, this wasn't possible and the Government backed furlough scheme helped many companies stay afloat during this difficult time. As you can imagine, the construction industry had a hard time of it to begin with as most of the work needs to be done on-site – and a lot of the admin was shifted to working from the sofa and meetings via Zoom calls.
Many other companies however, primarily office based ones, have embraced the working from home lifestyle, with some employees claiming to be more productive and enjoying better mental health because of it.
As we see a shift into more flexible working, we are going to see a change in the demand for office space, and the construction industry will likely change to help shape the future of working.
---
How does this impact commercial?
Many office based companies are rethinking their current real estate, and it's likely that we are going to see a decline in the need for huge office buildings in the city.
We could see some of the larger office buildings converted to flexible office spaces, residential accommodation or even gyms or other entertainment facilities.
Co-working (an arrangement in which workers of different companies share an office space) has risen in popularity over the last couple of years, and it's surely only going to get bigger in the wake of this pandemic. Working from home can be beneficial to some, but it's always good to have the option to get out of the house and be around like-minded individuals whenever you need to focus or stay productive.
As we see less people committing to permanent headquarters and looking to reduce overheads, converting spaces to dedicated co-working facilities that can be hired for an hour/day at a time is entirely possible.
Another option is converting these offices to more affordable residential accommodation, creating more places to live in the city and easing the housing crisis happening in many big cities. We've already seen the cost of renting drop in some cities thanks to the pandemic, as many are keen to keep people living there.
Something that has been a long time coming unfortunately is the "death of the high street", and this past year has only made things worse.
With an even bigger focus on online shopping, we could see the need for more warehouse spaces as online sales continue to ramp up with so many choosing to shop from the comfort of their home.
With most places offering next-day delivery and some even same day, the need for local warehouses in the city ready for quick dispatch is fast growing.
---
How does this impact residential?
The rise of flexible working might prompt some people to consider their living options, possibly choosing to move away from the city life. With some working from home permanently and no need to go into the city every day, moving from a small flat to a bigger property further out seems like a no-brainer.
Expensive rent (and small, sometimes cramped properties for the price), long commutes to work and limited opportunities to climb up the property ladder are all factors that could lead someone to move further afield if they are no longer needed in the office on a regular basis.
We will likely see the likes of broadband speed and reliability become priority over commuting time and location, giving employees a lot more options when it comes to renting or buying.
However, with more people looking to rent or buy outside the city comes demand for more housing, which is where the construction industry steps in.
We could also see more co-working spaces popping up in more rural areas, offering flexible workspaces and giving a boost to local areas, as well as parking (a huge plus for anyone used to working in city and town centres).
---
Don't forget about home improvement
While most of this article is focused on how flexible working is changing towns and cities, we can't forget about how it is affecting home life.
With so many of us stuck inside for the last 12 months and many choosing to continue doing so, interest in home improvement has risen significantly, with homeowners wanting to upgrade kitchens, buy new furniture and invest in larger home office set ups – potentially through the building of extensions.
Homes with dedicated offices or extensions are also much more desirable to buyers, and local contractors should see a boom in business because of this.
---
Summary
While we may see a decrease in demand for city skyscrapers filled with hundreds of offices, that doesn't mean that construction is going to struggle for work.
The rise of flexible working is simply going to create a new demand for different kind of spaces, and personally we're excited to see where this post-COVID era takes the industry.
Want to get involved in the conversation? Feel free to tweet us @utilitysearches and let us know your thoughts.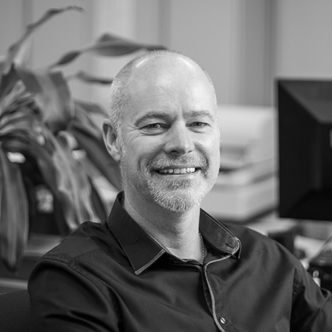 Brought in to help take the business to the next level, Jim's role is to improve lead generation and customer satisfaction from over 3,500 registered clients. Jim loves interacting with potential and existing clients and has a wealth of marketing and sales experience through his previous roles at O2, the RAC and TalkTalk. Jim holds a BA (Hons) Business Studies degree majoring in Marketing. He has also become a regular visitor to the UEFA Champions League final of late 😉