At the back-end of last year, my boss, Duncan (the creator and owner of the business) embarked on a leadership course. Aptly named "Growth Catalyst", the course is a leadership development program for small businesses in Merseyside with 2-250 employees. It is developed by experts in the field of leadership and management and the program is focussed on business growth.
As he'd admit himself, Duncan is an entrepreneur in the truest sense – thought of an idea, ran with it and learned how to sort the IT, the systems and processes to make it a viable business.
14 years on, Cornerstone Projects has 11 staff and a healthy bank balance but still wants to develop in leadership, marketing and strategic planning. The course has inspired him to think even bigger and provided him with the basic tools for success along with a checklist of things to complete to make us more successful.
Part of this, was setting a solid foundation for growth. We have therefore just completed a set of exercises to complete our Vision, Mission and Values.
This was obviously a very new thing for us and here's what I learnt…
1. These things are daunting to do at first, but if you follow a process anything is ultimately achievable.
2. You don't necessarily need expensive external experts.
3. There's a lot of information to help on the web (which was good) but perhaps too much inconsistency (which can be a distraction)
4. It can be a very cathartic exercise that certainly focusses your strategic thoughts.
5. It's a must to involve everyone – especially in a smaller business. Without involving them, you won't get their great ideas and buy-in.
6. Values can be the real game changer. Nailing what makes you successful and agreeing a set of principles that dictate your team and individual behaviours can be inspiring.
7. The whole process can bring a team together and give them clarity about where the business is going, what will drive it there and the behaviours everyone should and shouldn't be aspiring to.
8. This is only the start of the process – the values in particular need to be ingrained in everything you do. See later.
---
Our Vision and Mission
The Vision and Mission were created by our Senior Leadership team but reviewed and agreed by our wider team.
This was perhaps the easier element. There was some confusion early on about the definition of each but we agreed on a set of questions that answered each.
For our Vision, we tried to answer 2 clear questions…
What are our hopes and dreams?
What are we were inspiring to change?
For our Mission, we tried to answer 3 simple questions…
What do we do today?
Who do we serve?
How do we serve them?
There was some intense wordsmithing at the end. We agreed that we wanted our vision and mission to be short and pithy so there needed to be numerous rounds of reviews to get us to the end.
To view our Vision and Mission click here.
---
Our Values
Defining the Values was a more precise process. We took the team out of the business to complete an idea generation exercise.
We put the following question on the board…
When we get things right and our customers are pleased, what are the behaviours/traits we are showing as a team?
Then we went through the following exercise…
Step 1 – Idea Generation: Everyone wrote words/phrases that came to mind on post-it notes and stuck them on a board for everyone to see.
Step 2 – Grouping Ideas: We completed a joint exercise to group the words together where they were similar. Once this was done, we agreed a working title for each subgroup.
From 10 people in the room, about 70 words/phrases came out that we grouped into 8 working titles.
Step 3 – Voting for Ideas: Each member of the team cast 3 votes for their most favoured working titles.
Step 4 – Value & Definition Drafting: The information was taken away and the Senior Leadership team assessed the input and produced 4 Values with definitions.
Step 5 – Sign off: The team got back together and agreed and signed off the Values.
To view our Values click here.
---
Ingraining our values
As mentioned earlier we've done a few things to ingrain our mission, vision and values…
The Physical Environment
Our Values are now plastered on the walls of the office and through screen savers.
Making Decisions
We are starting to 'live' the values. We will use them to make decisions and focus our efforts. They will truly act as our filter.
Quarterly and Annual Reviews
The largest element of our staff reviews will focus on whether we are meeting expectations around our values.
Recruitment
Our interviewing will be centred around checking whether potential candidates can live with our values.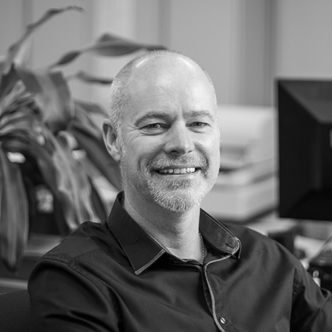 Brought in to help take the business to the next level, Jim's role is to improve lead generation and customer satisfaction from over 3,500 registered clients. Jim loves interacting with potential and existing clients and has a wealth of marketing and sales experience through his previous roles at O2, the RAC and TalkTalk. Jim holds a BA (Hons) Business Studies degree majoring in Marketing. He has also become a regular visitor to the UEFA Champions League final of late 😉