There are few roles as vital to the success of a construction project as the project manager.
As project manager, you are responsible for the planning, coordination, and execution of the project, ensuring everything is completed on time, within budget, and to the required quality standards.
In order to be successful in this role, it's important to have a wide range of skills, knowledge, and experience.
With that in mind, here are all of the essential skills that every construction project manager needs.
---
Strong communication skills
One of the most important skills that a project manager can have is the ability to communicate well with others. This includes clients, contractors and subcontractors, engineers, and architects.
A good project manager needs to be able to convey complex information in a clear and concise manner, and you need to be able to listen and understand the needs of others.
These kind of communication skills will help when trying to build relationships with investors, resolve conflicts, and keep everyone informed about the project.
---
Leadership qualities
As project manager, it's important to have natural leadership qualities and be able to motivate and inspire the team to achieve your goals.
This also includes the ability to make difficult decisions, and manage any conflict on the project.
Having strong leadership qualities will allow you to get the best out of your team, and ensure that your project is completed successfully.
---
Problem solver
As we've alluded to in previous points, construction projects come with their fair share of complex and challenging problems. Whatever the problem is, a good project manager must be able to quickly identify the issue and provide a solution to keep things on track.
In doing so, you reduce the risk of costly delays to the project and make it easier to finish the project on time and within budget.
---
Well versed in industry knowledge
As project manager, it is your responsibility to understand everything that is happening on the project. From the type of project to the construction methods to the materials being used, you need to be aware of every detail involved.
As these things can vary from project to project, it's important to be well versed in industry knowledge.
Having this kind of knowledge will allow you to make informed decisions about the project, as well as identifying and mitigating any potential risks.
---
Organised and well prepared
One of the duties of being a construction project manager is keeping track of a wide range of information, including schedules, budgets, and important project documents.
In order to excel in this position, you need to have strong organisational skills to be able to effectively manage your resources and stay on top of things.
With everyone on the project looking to you for answers, being organised and well prepared will allow you to provide solutions and take the proper actions to keep things moving.
---
Skilled in negotiation
You will find that project managers will often have to negotiate with clients, contractors, and subcontractors, so being skilled in this area is crucial to succeed in the role.
A good project manager needs to be able to reach agreements that are fair to all parties involved, securing the best possible deal for clients and ensuring the project can be realistically completed on schedule and within budget.
---
Insight into risk management
Construction projects can be very risky, and a quality project manager must be able to identify and mitigate these risks. You also need to have the ability to develop contingency plans, in case of any unexpected events or emergencies.
With effective risk management, you can avoid costly delays on the project and keep workers safe in the process.
---
Ability to adapt
If there is one thing we know to be true, it's that the industry is constantly changing and anything can happen on a project.
A quality project manager will have the ability to adapt to any situation, tackling oncoming challenges and adapting to new technologies. This also means you must be able to work effectively under pressure.
---
Summary
In summary, there are many essential skills that go into making a successful construction project manager.
As you can see, you need to have a complete understanding of all aspects of any given project, and be able to successfully take it from start to finish.
For those looking to progress up the ladder, it is important to develop all of the skills mentioned in this article. This can be achieved through a mixture of applying yourself and gaining experience on-site, as well as online courses or a degree in construction management.
Want to get involved in the conversation? We'd love to hear your thoughts. Tweet us @utilitysearches or follow our LinkedIn page.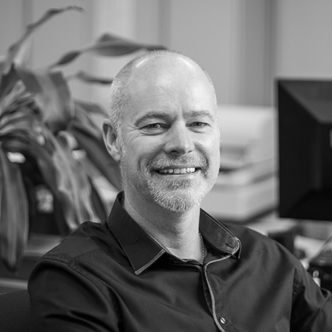 Brought in to help take the business to the next level, Jim's role is to improve lead generation and customer satisfaction from over 3,500 registered clients. Jim loves interacting with potential and existing clients and has a wealth of marketing and sales experience through his previous roles at O2, the RAC and TalkTalk. Jim holds a BA (Hons) Business Studies degree majoring in Marketing. He has also become a regular visitor to the UEFA Champions League final of late 😉